(19 June)
The next day, the plan was for me to use Jean-Paul's van again, and to meet him at work when he got off at 3:00, then drive to Duluth to his parents' place (who were out of town), go to a bike shop, ride the Munger Trail, eat dinner, and sit in the hot tub.
Passing the radio station the night before had reminded Jean-Paul to tell me about a show on Tuesday mornings called
Phenology
, and I told him to turn it on in the morning when he left for work. The show was pretty interesting. The host reported his varied observations from around the area: berries, wild irises, and other flora and fauna. He mentioned "June berries," which I'd never heard of.
This time I found the Lost Forty, which is in the Chippewa National Forest. The drive up is pleasant. Hwy 2 ("The Great Northern Route"), Hwy 46 (the "Avenue of Pines"), and then a few miles down a gravel road. Hwy 46 leads through the Chippewa, and somewhere in the middle of it I stopped to relieve myself at a rest area. I parked right next to a big Forest Service sign facing west, marking the Laurentian Continental Divide. There was a vertical line down the middle of the sign. On the right, precipitation flows south to the Gulf of Mexico; on the left it flows north to Hudson Bay. How epic!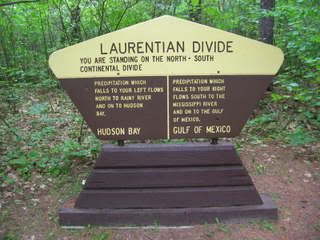 There was nothing gradual about this transition, judging by the stark geometry of the sign, and yet there was no physical ridge or rift on the ground to betray it. I took a photo and considered texting my friend in Kalispell, Montana. That morning I had been paging through Jean-Paul's atlas, and looked at Kalispell, which is also on a continental divide, the east-west one. I felt awed by this spot, with an invisible ridge that commands a continent! How was this specific spot identified? Could this precision be believed? Why wasn't this posted on the highway? I was lucky I had to stop when I did.
Sitting in the outhouse, I heard tires on the gravel outside, and soon a knock and a voice, asking if I was busy in there. I said yeah, and then he drove away.
At the Lost Forty, I was surprised to see about ten cars (and two tents) in the parking area, on a Tuesday! The tents were strange because, officially, you can't camp in an
SNA
, although my friend Trout had told me that no one would notice if you did, because people hardly ever visit them. That certainly didn't seem to be the case here. The road sign said "Lost 40 Loop," and it seemed to be referring to the whole road, so I drove past the parking circle to see what was ahead. I had my window rolled down. A pickup passed from the other direction, and puddle water splashed into my window, all over my face and arm, and into my ear! I was mad, but I eventually had to laugh. The road became narrow, and led only to private properties, so I stopped at a grassy little water access. Across the lake I saw a large otter chewing. I urinated, turned the van around, and headed back to the Lost Forty. "Lost 40 Loop" just meant the parking area.
The Lost Forty Scientific & Natural Area
, in Itasca County, takes about an hour to walk through slowly. The trail takes you to all the grandest trees. Occasional interpretive signs line the route, the good kind, that point to specific trees or other features in front of you. Indeed, this red and white pine forest remnant was exactly what I had been looking for: this acreage had
never
been logged. Thank Chaos for oversights.
That day I explored. I only had until 1:00 pm, when I would have to head back to Rapids, prepare to go to Duluth overnight, and then leave at 2:40 to go pick up Jean-Paul at work at 3:00. Not enough time to etch, but hopefully I'd find "The Spot," in case of which I carried my backpack with all the necessary gear. I saw a green rope snaking all the way up one of the bigger white pines, and I guessed why some of the cars in the loop were there: research? I was eager to find out, and maybe I'd get a chance to ask how they got to camp here.
I soon set out on a game trail toward a tamarack swamp, following the sound of birds and watching out for moose and cougars, for which I quickly grabbed a cudgel. I saw a
warbling vireo
down there, and the mossy area had beautiful colors (wet green and rust red), but it was too buggy to be The Spot. The trail led right to a muddy swamp creek, and the only logs spanning it were soggy, so I headed back up to the main trail.
I heard some unfamiliar bird calls, but their bodies eluded my eyes. I next left the main trail to follow one leading to Moose Creek. An ominous name. I held my cudgel ready and periodically jangled my keys or shouted as I cautiously stepped down the narrow path with tall, dense brush on either side. I emerged into the open sunlight of a wetlands the size of a lake. I stood on the bank, the stream completely walled by reeds as it quickly curved out of sight. A moose could come out of nowhere around here. I absorbed my surroundings, letting the sun into my skin, and breathing in the quickening winds. Then, I left with haste, shouting to make my presence known.
My next stop on the trail was a small clearing on a hill overlooking the wetlands. The wind blew hard, making the big trees sway, and the sun shone in a blue sky with bright summer clouds racing eastward. I pulled out my mini folding camp chair to sit and eat a PB&J in the mosquito-proof wind. I was drawn less to such epic vistas than to little groves in which to etch. I looked for a spot with both a red and a white pine in the scene. I walked around and around each massive white pine I came to. They are truly beasts, as far as Minnesota trees go.
I didn't settle anywhere until it was time to leave. I left my cudgel against a tree at the trailhead, and I counted twelve cars in the parking loop as I left. As soon as I did, a line of
five
Suburbans drove in! Jean-Paul had said he'd never seen anyone else there in the eight times he'd visited. And it was a Tuesday!
Jean-Paul had recommended returning to Grand Rapids via Hwy 38, which he proclaimed to be the prettiest drive in the state. I didn't need much coaxing to obey. Heading that way, near the Lost Forty, I passed the township of Wirt, whose name was emblazoned on my second-hand, sky blue sweatshirt with deer on it back home. Previously, I had had no idea where this place was. The mythical Wirt has no shops, no population number on the sign, and a sign from only one direction. I was intrigued to see a sign for Wirt Cemetery Road, pointing into the woods. I'd try to check it out next time.
Highway 38 is a rollercoaster through the Chippewa National Forest. Absolutely gorgeous and fun. I stopped to urinate, and again stumbled upon the Laurentian Divide. They don't announce the significance of these wayside rests.